Toys R Us
Toys R Us: Nintendo 3DS $149.97 (Ends Thursday)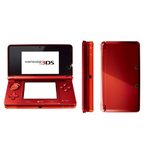 This deal has expired!
With March Break quickly approaching, why not reward your kids for doing well in school with a new Nintendo 3DS? Toys R Us currently has them on sale for $149.97 and they're available in Pearl Pink, Flame Red and Cosmo Black. The site doesn't list Aqua Blue but we're sure you can find that in-store too. The 3DS has gotten a lot of flack for its constant price drops, lack of games and gimmicky 3D feature but that doesn't mean it isn't a capable gaming handheld with some solid titles. Some of the office favourites include:
Super Mario 3D Land
Mario Kart 7
Star Fox 64 3D
The Legend of Zelda: Ocarina of Time
Though we've seen better bundles that included games at Future Shop and Best Buy in the past, this would be a good pick up if you're looking for the handheld only.
The deal ends on March 1.