Tiger Direct
TigerDirect.ca: VisionTek Radeon 7970 3GB Video Card w/5 Games (inc. Battlefield 3) $369.99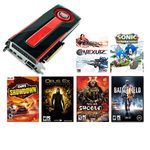 This deal has expired!
Looking for a high end video card to power your PC gaming? TigerDirect.ca has a hot deal! The VisionTek Radeon HD 7970 3GB Video Card with 5 bundled games is $369.99. The games aren't just bargain basement throw-ins, either.
DiRT Showdown
Deus Ex Human Revolution
Nexiuz
Total War: Shogun 2
Battlefield 3
Sonic Generations
Elsewhere, you'd be looking at prices of $425-$500 for a Radeon 7970 and possible mail in rebates. And in those cases, you wouldn't be receiving some high quality games like BF3, Total War, and Deux Ex.
This is a hot offer that won't last long! Thanks to forum member anon_s for posting this deal as well!