Tiger Direct
TigerDirect.ca: Refurb Asus 15.6" Laptop w/i5-2430M, 4GB RAM, 640GB HD, USB 3.0, 8-Cell $499.97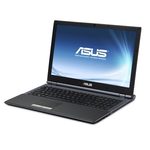 This deal has expired!
If you're in the market for a laptop PC and don't have any reservations about buying refurbished, TigerDirect.ca has a great deal on a 15.6" Asus you might want to consider. Right now, you can pick up the refurbished Asus 15.6" Laptop with Intel Core i5-2430M, 4GB RAM, 640GB HD and 8-Cell Lithium-Ion Battery for $499.97. Even though it's a refurbished unit, this is a solid deal and has the specs to back up the $500 price.
To start, it's rare to find a second-generation i5 processor at the $500 mark; let alone one with an 8-Cell battery that's good enough for up to 9 hours of working time. Despite it being almost 5.5 pounds, commuters and students will concede a little extra weight for a lengthy battery almost all the time. The hard drive space is decent and the USB 3.0 and HDMI ports are nice features but you might want to consider upgrading the RAM as it only has 4GB.
Reviews for this unit were favourable with most citing its affordable price and value.
The deal is available in-store and online. Shipping is extra.