Tiger Direct
TigerDirect.ca: Kingston 120GB Hyper X SSD $69.97, OCZ Agility 4 256GB SSD $129.97 AR + Cash back
Expired Deal
2.5%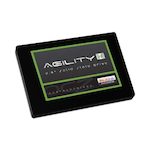 This deal has expired!
If you missed yesterday's solid state drive deal over at TigerDirect.ca, you have another shot at some other SSD offers.
First up, there's a OCZ Agility 4 256GB Solid State Drive on sale for $129.97 EARN CASH BACK after $30 mail-in-rebate. There have been some pretty good deals on solid state drives as of late but they're usually on older versions or ones that don't have a ton of space. The unit here is a newer OCZ model and should have enough capacity for most consumers. This model has been closer to $200 to this point.
If you're looking for something below $100, there's also a Kingston SH103S3/120G HyperX SATA III 2.5" 120GB Solid State Drive for $69.97 EARN CASH BACK after $40 coupon code discount. That's a hot price for a very well reviewed drive. TigerDirect lists a 4.8/5 rating with 37 reviews and Newegg.ca lists 155 user reviews for this unit and an average rating of 5/5! You only have until the end of today (October 25) to take advantage of this deal.
Don't forget to use the green link above to earn 2.5% Cash Back.