Tiger Direct
TigerDirect.ca: Intel X25-M 2.5" 80GB Solid State Drive $29.97 after $20 Mail in Rebate
Expired Deal
2.5%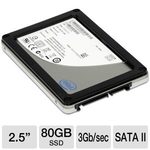 This deal has expired!
Update:: TigerDirect has added a coupon code offer bringing to price to $49.97 before the mail in rebate. You should be able to combine this with the rebate offer to get a final price of $29.97!
If you're looking to get your feet wet with a solid state drive but not big on spending $100 or more, there's a deal worth considering from TigerDirect.ca right now. TheIntel X25-M SSDSA2MJ080G2C1 MLC 80GB Internal Solid State Drive (2.5" Form Factor, SATA II 3Gb/s) is now $39.97 $29.97 EARN CASH BACK after a $20 mail in rebate. You can also earn 2.5% cashback from RedFlagDeals.com by using the green link above or shopping at TigerDirect.ca from our cash back section.
The Intel X25-M is an older SSD drive, but the good news is that it has aged well. Intel solid state drives have always been considered very reliable, and this is still going to be a big bump in speed if you are coming from a normal hard drive. Amazon.com has 10 reviews for this drive and it has a 5/5 average rating.
A big thanks to forum member anon_s for sharing this deal!