Tiger Direct
TigerDirect.ca: Asus 15.6" Laptop w/Core i7-2670QM 6GB RAM, 500GB HD, GT540M $880 and More!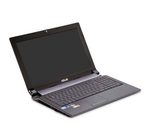 This deal has expired!
If you're looking at upgrading your home PC and would like to get a little more mobile, TigerDirect.ca has a pretty decent deal on a workhorse computer at an affordable price. For a limited time, you can pick up the Asus 15.6" Laptop with Intel Core i7-2670QM, 6GB RAM, 500GB HD and Nvidia GT 540M for $879.97 when using the coupon code JEG58480 at the checkout. Although $880 might seem like a lot to spend on a laptop with only 6GB of RAM and a 500GB HD, make no mistake, this is powerful computer that should be able to handle very CPU heavy programs.
If you can look past the average amount of RAM and hard drive space, this notebook features benefits such as the second-generation quad-core i7 processor, dedicated 1GB graphics card, USB 3.0 port, integrated Bluetooth 3.0 and 2.0MP webcam. The 6-Cell Lithium-ion battery and 6.4 pound frame might turn off daily commuters, but this would be better suited as a desktop replacement anyway. Definitely a solid deal if you're in the market for an upgrade or a replacement laptop.
Other deals at TigerDirect include:
Because wireless connectivity is sometimes a little spotty, AV adapter kits are a good way to stay connected. They're very easy to setup and are pretty much plug and play right out of the box. If you think your off and on wireless connections could be the cause of a faulty or dying router, the Linksys E2500 is also priced competitively provided you don't mind waiting a couple of weeks for the $10 rebate.
All of these coupons expire on April 15 so you'll need to order soon if you want to take advantage of the extra savings.
Shipping is extra.