Tiger Direct
TigerDirect.ca: Actiontec 500Mbps Powerline Network Adapter Kit w/2xAdapters $49.97 + Cash Back
Expired Deal
2.5%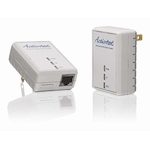 This deal has expired!
If you can't stand having your laptop or desktop running on a wireless connection at home, TigerDirect.ca has a decent deal on a pair of powerline adapters worth checking out. Right now, they've put the Actiontec 500Mbps Powerline Network Adapter Kit on sale for $49.97 EARN CASH BACK -- down from $87.99 and a good price considering this kit comes with two adapters. Most retailers charge around $40-$50 for one adapter and, unless you have existing hardware, you'll need two to make a successful connection. This kit comes with two at a very reasonable price.
Those of you unsure of how this works, it's actually quite simple. Using these adapters, you'll be able to use the electrical outlets in your home to allow for an Ethernet connection where you previously thought impossible. One end connects to the router or cable modem and the other to the area where your device is located. Plug in the Ethernet cords and you're ready to go.
The deal is live now and reviews were actually pretty good considering this is a brand we haven't heard much about. Don't forget to use the green links above to earn Cash Back.
Thanks to ThomasTran for sharing this one!