The Source
TheSource.ca: Sony Fontopia Headphones $9.99 (Save $10)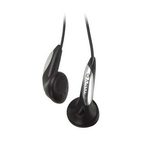 This deal has expired!
If you're looking for an affordable pair of earbuds to keep at work or use on the daily commute, chances are you won't find a cheaper pair than the Sony Fontopia Headphones for $9.99 over at TheSource.ca. At $10, we wouldn't expect the highest quality sound money can afford, however, it's a well reviewed pair of earbuds at a low cost.
The earbuds have over 20+ reviews with an average score of 3.8/5. Most users were pleased with its subtle design, durability, sound quality and, unsurprisingly, its value. If you need a pair to stash in a drawer at work or to toss in a bag from time to time, this would be a good pair to consider.
The deal is live now but expires on August 1.