Sears Canada Inc
TheSource.ca: Sennheiser RS116 Wireless Headphones $69.99 (Save $70)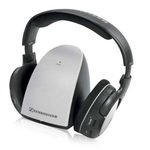 This deal has expired!
If you have multiple TVs at home and find that sounds are overlapping from room to room, you might want to pick up some external headphones to help make your viewing experience much better. No, we're not talking about earbuds or the set that comes with your cell phone -- we're talking about the Sennheiser RS116 Wireless Headphones currently on sale at The Source for $69.99. This is a very good price for the set and one to consider if you're interested. Some of its features include:
Open, stereo, supra-aural and wireless design
Lightweight and comfortable
Detailed sound reproduction with strong bass
Reception through walls and ceilings with range of up to 100 metres
AAA batteries included
2-year warranty
Despite this not having rechargeable batteries or a charging cradle, those are easy to come by and are relatively inexpensive. More information can be found over at the Sennheiser page and reviews at The Source were generally positive with an average score of 4/5. On average, you're looking to pay at least $30-$40 more so now would be the time, if any, to place an order.
The deal is live now but expires on October 3. Standard shipping starts at $4.99.