The Source
TheSource.ca: JVC Sport Clip Headphones with Mic and Remote - $14.98 (Reg. $29.99)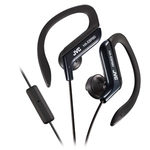 This deal has expired!
Tired of having your earbuds pop out while you're at the gym or while out taking a light jog? If so, you'll definitely want to check out the JVC Sport Clip Headphones with Mic and Remote on sale right now for $14.98 at TheSource.ca. If working out with your current earbuds or headphones is causing more problems than they're worth, this might be an option to consider.
With three ear piece sizes and five adjustable hook positions, you shouldn't have a problem finding a comfortable position regardless of exercise. The built-in remote control and microphone make it easy to pause, play and skip songs without having to fiddle with your phone or MP3 player too often. At an MSRP of $30, we'd have to weigh out convenience versus price. At $15, though, it's almost a no-brainer.
The deal is live now but expires on August 1.