Sears Canada Inc
TheSource.ca: Display Model Fuji Finepix AV100 12MP Camera w/3x Optical Zoom, HD Video $47.96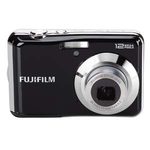 This deal has expired!
If you're looking for a digital camera and don't mind buying somewhat used, The Source has a pretty good deal on a Fuji model you might be interested in. Right now, they've put the display model Fuji Finepix AV100 12MP Digital Camera on sale for $47.96. Even if it is slightly used, a 12 megapixel shooter for under $50 is pretty good deal. Some of its features include:
12 Megapixel resolution
3x optical zoom
2.7" LCD Screen
Face detection, red-eye reduction, panorama stitching and image stabilization
720p HD movie
While it doesn't have all the bells and whistles of newer point-and-shoot cameras, this display model Fuji isn't bad at all. It has a fairly high megapixel count, average zoom range and features most consumers will be happy with -- image stabilization, face detection and red eye reduction. For $50, you can't fault it for having a few shortcomings, though, as it does require two AA batteries and is only able to shoot in 720p HD.
The deal is live now but quantities are limited. If you're interested in picking up a new camera, or just one to take to areas where you wouldn't dare take a more expensive camera, you'll want to place an order soon.