Telus Mobility
Telus 3-Day Sale: Nexus S, HTC Desire, BlackBerry 9380 or Torch 9800 Phones are $0 on 1-Yr Contract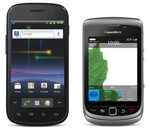 This deal has expired!
If you're in the market for a basic smartphone, and you're planning on sticking with a big carrier, Telus has an offer worth checking out. The Telus 72-Hour Sale features four phones for $0 on 1-year contracts. Here are your phone options:
BlackBerry Curve 9380
Google Nexus S
BlackBerry Torch 9800
HTC Desire HD
None of the options are top of the line phones these days, but they are all still capable phones. Certainly the Nexus S (which has an Android 4.0 Ice Cream Sandwich Update) as well as the HTC Desire HD can provide a modern smartphone experience. If you prefer a BlackBerry, the Torch 9800 gives you a physical keyboard and a touchscreen. Note that HTC has announced that the HTC Desire HD is no longer slated to receive an official ICS update.
For the price conscious shopper who doesn't need the latest and greatest phone, there are some pretty reasonable options here. This is an online only promotion. Shipping is free.