Staples
Staples: Toshiba 15.6" Laptop w/Intel Core i5-3210M, 8GB RAM, 640GB HD, 1GB Radeon, Blu-ray $700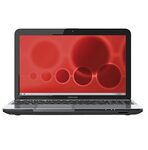 This deal has expired!
Here's a pretty sweet fully-loaded laptop deal courtesy of Staples. Right now, you can get your hands on the Toshiba 15.6" Laptop with Intel Core i5-3210M, 8GB RAM, 640GB HD, 1GB Radeon and Blu-ray for $699.99. If you don't need the graphics card or the Blu-ray player, you can probably get a more affordable third-generation i5 laptop, however, those looking for a portable desktop replacement might want to take advantage of this deal. The laptop features:
Intel Core i5-3210M
8GB RAM
640GB Hard Drive
Blu-ray Disc Drive
1GB DDR3 AMD Radeon HD 7670M
HDMI, Memory Card Reader and USB 3.0 Connectivity
The battery life is a meager four hours but there's no denying what's under the hood is pretty impressive. The 8GB of RAM and 640GB HD should be enough for most and gamers and entertainment seekers will be able to make use of the dedicated graphics card and Blu-ray drive. The 7670M should be able to play most new games on medium settings so you'll be able to take games like Borderlands 2, DotA 2, League of Legends and StarCraft II on the go.
The deal is live now and ships free.