Staples
Staples: SteelSeries Siberia V2 PC Gaming Headset $69.99 (Reg. $89.99)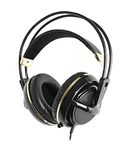 This deal has expired!
If you're looking for a new PC headset, Staples has put a popular SteelSeries offering on sale for the next week. Until May 15, you can pick up the SteelSeries Siberia V2 PC Gaming Headset on sale for $69.99; down from $89.99 and decent price for a well reviewed pair of headphones even if it might be a little on the expensive side. While most casual users will be content with a more affordable option from Logitech or Microsoft, for example, this SteelSeries headset has built in features gamers will appreciate.
The first, and most obvious, thing to note is that the microphone is retractable so it isn't exposed when not in use. It also features noise reduction earcups, integrated volume control and can be worn comfortably for prolonged periods. For more information on the Siberia V2 Gaming Headset, you can check out the SteelSeries website here.
The deal is live now but will expire on May 15.
Staples will ship this item free as it's over $50.