Staples
Staples: Microsoft Comfort Mouse 3000 $14.95 (Save 40%)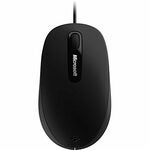 This deal has expired!
Here's a pretty solid mouse deal courtesy of Staples. Right now, they've put the Microsoft Comfort Mouse 3000 on sale for $14.99 -- a savings of 40% and a pretty decent price for those who need a new laptop or notebook companion. No, it's not wireless nor does it have the all-important forward and back buttons but it's priced right for those who need something to toss in a computer bag for daily use.
Unfortunately, it's currently out of stock online but that doesn't mean Staples won't get some web units back in before the sale ends on October 23. Normally, you're looking to pay about $20-$25 for this particular model so you'll want to keep an eye out for the next few days if you're interested.
If you're really in a hurry, you'll want to check your local Staples or call ahead to see if one can be set aside for you.