Staples
Staples Lowest Prices Event: Canon imageCLASS AiO Laser Printer $70, Logitech G400 $45 and More!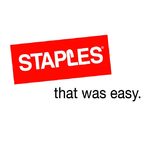 This deal has expired!
After a pretty thin flyer last week, Staples has just released a sizeable two-week flyer to celebrate their Lowest Prices of the Year Event. While this might be a made up event to get us talking, it's certainly working as there are some good deals definitely worth mentioning. Here's a look at what caught our eye:
Other Promotions
250 Full Colour Business Cards - $9.99
Save 15% on all in-stock monitors
Buy any camera and get a 32GB SDHC for $10
Save 25% on all Lowepro Camera Bags
Save 40% on all Sony ZX Headphones
Flyer prices are in effect until October 16 and you can view the entire thing here via our Flyers Section. Stock is probably going to vary so if you see something unavailable online, continue checking back as this is a two week flyer.
Free shipping is available on orders over $50.