Staples: Lexar 64GB USB Flash Drive $39 Until April 10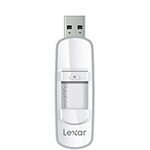 This deal has expired!
Forum user Durango360 spotted a decent flash drive deal! Over at Staples, the Lexar 64GB S70 USB Flash Drive (White) is half price, on sale for $39. This Hi-Speed USB drive is worth the investment if you constantly have large music files, videos or photos that need to be backed up or transferred. For peace of mind, it comes pre-loaded with advanced data protection features (Secure II Software) and data encryption options, so you'll be able to store and secure your files safely when you're on the go.
The reviews at Staples.ca are favourable with an average rating of 4.4/5. This Lexar Jump Drive comes with a 2-year limited warranty. If you're interested, the offer is available online and in stores until April 10. Staples offers free shipping on online purchases over $50 (before taxes).