Staples
Staples: HP LaserJet Pro CP1025NW Wireless Colour Printer $99.90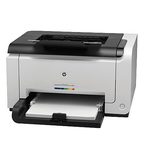 This deal has expired!
If you're looking to replace an older ink-jet printer with something a little more cost effective and that has networking capabilities, Staples has a great deal on a HP LaserJet that might be worth looking into. Until April 24, you can pick up the HP LaserJet Pro CP1025NW Colour Printer on sale for $99.90, down from it's original $320 MSRP. At its original price, we'd definitely pass on it in favour of something a little more affordable but at $100, it'll be hard to find a printer with as many features as this particular LaserJet.
Although laser printer cartridges are a little more expensive than the standard inks, they don't dry out and don't need replacing as often. Whether you print lots daily or only a few times a year, it's a better buy in the long run. Another draw of the CP1025NW is that it has Ethernet and wireless connectivity, allowing you to print from anywhere inside the home or office. Instant-on and off technology save energy and the box includes everything you need to get started including the USB cable. It might seem odd to mention that but some printers omit that from the box which means another expense you might not consider.
The deal is available online and in-store.
Free shipping is available as it meets the Staples minimum of $50.