Staples
Staples HP 2TB USB 3.0 Desktop Hard Drive $109.91 with Free Shipping (Until May 29)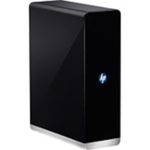 This deal has expired!
If you need an external hard drive that won't break the bank, you might want to take a look at what forum poster stephroll spotted over at Staples. Right now, the HP 2TB USB 3.0 Black Desktop Hard Drive is on sale for $109.91. It features dual USB 3.0 and USB 2.0 connectivity (one USB cable is included). With 2TB capacity, you'll have ample storage space for backing up your work and personal files. The reviews are pretty decent with most citing its easy plug-and-play operation and reliability.
The deal is live now but will expire on May 29. If you're purchasing it in store, we'd recommend calling your local store first to confirm availability. If you're buying it online at Staples.ca, free shipping is available on this item.