Staples
Staples: BlackBerry PlayBook 16GB $99, 32GB $118 w/Free Shipping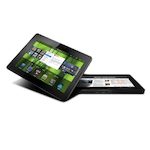 This deal has expired!
And there you have it! Finally, the BlackBerry PlayBook has reached a new low of $99 for the 16GB model and $118 for the 32GB variant over at Staples. Those of you interested in the RIM tablet will definitely want to head to your nearest location ASAP as quantities are now extremely limited.
While some didn't think the PlayBook would drop to TouchPad firesale pricing, the majority of would-be buyers held out and are now rewarded for their patience; if they can find one. Online availability won't be all that reliable so you'll want to call ahead and reserve the hardware if you're interested.
Thanks to Fantaz and Shawns13 for keeping an eye on this for us!