Staples
Staples: 32GB iPod Touch $269.99 (Reg. $299.99)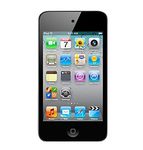 This deal has expired!
If you're in the market for a new iPod Touch, Staples is giving you a chance to save a bit on the popular Apple portable music player. For a limited time, you can pick up a 32GB iPod Touch, in black or white, for $269.99. Now, a savings of $30 normally wouldn't warrant much attention but, because it's an Apple product and those rarely go on sale, we figured we should point it out anyway.
The deal is live now but will expire on April 15.
Free shipping is available as this is over the Staples minimum of $50.