us.norton.com
Norton: 360 All-in-One Security on Sale for $8.99 (3 Users, Limited Time!)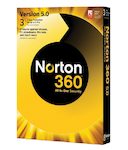 This deal has expired!
If you're looking to keep your PC in tip top condition and protected from viruses, malware and other harmful internet unfathomables, forum user mtommy79 has found a great deal on some popular anti-virus software. For a limited time, you can download Norton 360 for $8.99 after using the coupon codes USCYBERGEDDON and USNORTONTRUCK25 at the checkout. The software MSRP is listed at around $80 so now would be the time to download a copy. Some of the more notable features include:
Antivirus
Antispyware
Antirootkit
Antiphishing
Smart Firewall
Network Mapping & Monitoring
PC Tuneup
Norton Identity Safe
Parental Controls Management
The deal is live now and the software can be applied to three different computers.
We're not sure when the deal will end so you'll want to place an order soon if you're interested.