Newegg.ca: Mushkin Enhanced Chronos Deluxe 2.5" 240GB Solid State Drive $164.99 + Cash Back
Expired Deal
1%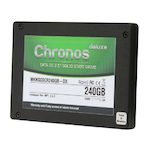 This deal has expired!
Solid state drives are becoming increasingly popular but if you haven't yet made the jump, Newegg.ca has a good deal on a Mushkin model you might want to consider. Right now, they've put the Mushkin Enhanced Chronos Deluxe 240GB Solid State Drive on sale for $164.99 with $4.99 shipping EARN CASH BACK. On average you're looking to pay an extra $35 for this model so now would be the time to order one if you're looking for a performance boost.
Though not as spacious as regular mechanical drives, solid state models offer much faster read and write times which significantly cut down on loading. We've seen cheaper models on sale but usually only on 60GB, 80GB and 120GB drives. If you don't think you can get by with anything less than 240GB, this is would be a drive to check out. There are over 110 reviews at Newegg too with an average rating of 4/5.
The deal is live now but quantities are limited. Shipping is extra but not a deal breaker.
Don't forget to check out using the green links above to earn Cash Back on your purchase via RedFlagDeals.com.
Thanks to forum member papaniad for posting this one.