Newegg
Newegg.ca: Logitech C200 0.3 Megapixel USB 2.0 Webcam $2.99 + Free Shipping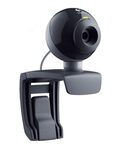 This deal has expired!
We've seen some pretty cheap webcams before but this might be the most affordable one yet. Forum poster Don DiGuapo has pointed out that Newegg.ca has the Logitech C200 0.3 M Effective Pixels USB 2.0 Webcam on sale for just $2.99 after applying the coupon code CEMCNGHB74 at the checkout. Though it's not going to impress you with crystal clear HD video, $3 for a very basic webcam isn't a bad deal.
If you happen to use Skype sparingly and don't really need the best of the best in terms of technology, this should be just fine. The built in microphone and monitor clip are nice to have and the simple video-calling software should get you up and running quickly. We don't expect the greatest performance out of it but, for less than a few cups of coffee, we'd pick one up if we needed one.
Free shipping is available.