Newegg
Newegg.ca: Lenovo Z570 Laptop w/Core i7 2670QM, 4GB RAM, 500GB HD, Bluetooth, HDMI and Case $649.99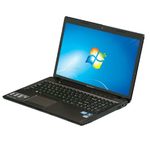 This deal has expired!
Those of you in the market for a powerful and affordable laptop will want to check out this limited time Lenovo deal at Newegg.ca. Similar to the 15.6" notebook being offered at Best Buy, you can pick up the IdeaPad Z570 with Intel Core i7 2670QM, 4GB RAM, 500GB HD, Bluetooth and HDMI for $649.99 While it may not have as much RAM, the Newegg laptop has an open slot to use and, all things considered, RAM is a pretty cheap upgrade.
For the price, this is a pretty solid deal as you're getting a second-generation quad-core i7 processor which should be up to the task of handling most consumer needs. Word processing, web browsing and general multitasking should be a breeze as will video and photo editing with heavier programs such as Photoshop and Premiere. Without a dedicated GPU, this isn't going to do anything for you in terms of gaming but this is a capable laptop that is task-oriented and geared towards productivity. It's a bit heavy (5.7 pounds) and the battery life is average (about 4.5 hours) so you'll want to take that into consideration if you need something a little more mobile.
The deal is live now and ships with a free Case Logic Black 16" Laptop Briefcase.
Free shipping is available.