Newegg
Newegg.ca: Intel Extreme Master LE 8GB (2x4GB) Desktop Memory $30 After Rebate + 1.5% Cash Back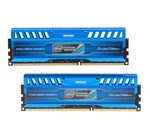 This deal has expired!
If you're in the market for some desktop RAM, Newegg.ca has a pretty solid deal on the Intel Extreme Master Limited Edition 8GB (2x4GB) Desktop Memory Kit on sale for $29.99 after 10 mail-in-rebate. This is a good deal on a 2x4GB pairing and should be considered if you're looking to give your desktop a bit of a boost.
Next to a solid state drive or a graphics card, RAM is one of the easiest things to upgrade which gives immediate returns. We'd recommend putting in as much RAM as your operating system and motherboard can support as it makes any existing or new computer even more of a joy to use. At this price, and with 1.5% Cash Back, there's no reason not to take advantage of this offer.
The deal is live now but the rebate period ends on October 5. Shipping is $4.99.