Newegg
Newegg.ca: Intel 330 Series 120GB SSD $104.99, 180GB SSD $149.99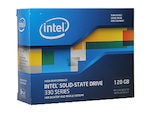 This deal has expired!
If you're looking for a good quality sold state drive, Intel is is probably near or at the top of your list. The good news is that intel has recently dropped the MSRP on its 330 series SSDs, and Newegg Canada is one of the first out of the gate with reduced prices. Here are the details:
Each product has about 20 user reviews on Newegg, and a stellar average rating of 5/5. Intel SSDs are well-liked for their combination of reliability and speed. If you look at some other retailers, the prices are still $50 to $70 more for either drive.
Thanks to forum member Real_Deal for sharing this!