Newegg
Newegg.ca: Hannspree 23" Full HD LED BackLight LCD Monitor w/Speakers, 5ms Response Time $139.99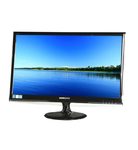 This deal has expired!
Here's another solid monitor deal courtesy of Newegg.ca. Right now, they've put the Hannspree 23" Full HD LED BackLight LCD Monitor with Speakers on sale for $139.99 with free shipping. At a regular price of $199.99, we'd be inclined to put our money towards another panel or wait for a sale, however, this is a decent deal on a highly rated 23" monitor with some good features.
The monitor received over 100 five-star reviews with most users commending its minimalist and sleek appearance, affordability and contrast. Despite it not having HDMI, the built in speakers make it an appealing option to those who don't want to spend extra on a sound system or for those that don't have the space.
If you're a student studying abroad or just need an external monitor to pair with a laptop or netbook this is a good option to consider.
Free shipping is available.