Newegg
Newegg.ca: Corsair Force Series GT 2.5" 120GB SATA III Internal Solid State Drive $119.99 AR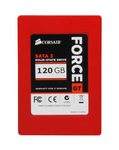 This deal has expired!
If you haven't yet hopped on the solid state drive train as of yet, Newegg is giving you a pretty good incentive to jump on with one of today's Shell Shockers. For a limited time, you can pick up the Corsair Force Series GT 120GB SATA III Internal Solid State Drive on sale for $119.99 after a $30 mail-in-rebate. We've seen some better deals popup for drives of the same capacity in the $99.99 range recently but, with over 200 five-star reviews, this continues to be a favourite among the Newegg community.
As with all new technology, you'll be paying a bit more to get the latest and greatest. However, at around $1.00 per GB, most are willing to invest considering solid state drive technology offers much faster read/write speeds than mechanical drives making it an easy choice when speed is absolutely necessary. If you can't stand painfully long load times, this is something worth looking into. For more information on the Corsair Force Series, you can check out the website here.
The deal is on for today only.
Shipping is an extra $4.99.