Newegg
Newegg.ca: Brother All-In-One Monochrome Laser Printer $119.99 with Free Shipping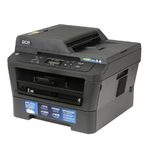 This deal has expired!
If a new laser printer is on your list of back to school items, Newegg.ca has a pretty solid deal on a Brother model you might be interested in. Right now, they've discounted the Brother All-In-One Monochrome Laser Printer to $119.99 with free shipping. This is one of the lowest prices we've seen for an all-in-one laser printer and is worth consideration if you plan on using the scanner, fax and copier functions.
We've seen standalone monochrome printers on sale before but $120 is definitely a good price considering this has the aforementioned functions along with the all-important duplex, or automatic double-sided, printing ability. Limited feedback on Newegg was also positive with most buyers happy with its speed, affordability and easy setup. If you're in need of a new printer, or just want to rid yourself of a money guzzling inkjet, this might be the all-in-one for you.
The deal is live now but we're not exactly sure for how long. The unit ships free.