Newegg
Newegg: Olympus E-PL1 12.3 MP Camera (Black) with 14-42mm lens is $279.99 + Free Shipping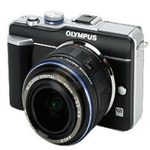 This deal has expired!
If you missed out on the Olympus E-PL1 (Gold) camera deal last week, right now the Olympus E-PL1 12.3 MP Camera (Black) with 14-42mm lens is on sale for $279.99 at Newegg.ca - thanks pvp for the heads up!
As a third generation of the Olympus PEN series, the E-PL1, sporting a mirror-less & prism-less Micro Four Thirds system, has a lot going for it. For a small camera with interchangeable lens, it features a large-size MOS sensor as well as a TruePic V Image Processor, a Live View with built-in image stabilization and automatic settings that are easy to use - much like a point & shoot. Long story short, it makes a decent starter kit for novices who demand DSLR quality as well as portability in their camera. If you're interested, we suggest you put your order in sooner rather than later as we've seen deals like this come and go. The camera ships free from Newegg.ca and a 1-year limited warranty is included.