RedFlagDeals.com
New RFD Cashback Stores: Dell, Sears, Gap, Sony, Puma, TigerDirect, Expedia & More!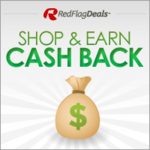 This deal has expired!
RedFlagDeals.com is going to save you even more money! We've just added a lot of new retailers to the RedFlagDeals Cash Back section! You can now shop and earn cash back on purchases from over 25 major stores, and more are on their way!
Use green cash back links (in deals and forum posts) or visit the cash back section to start earning cash now! Here are some popular store highlights:
Dell Canada - 4% cashback introductory offer
Sears - 1.25% cashback
Apple Store - 1.5% cashback
Expedia - up to 4% cashback
Gap - 2.5% cashback
Old Navy - 2.5% cashback
Banana Republic - 2.5% cashback
Beyond the Rack - 3% cashback
TigerDirect - 2.5% cashback
Sony - 3.25% cashback
Puma - 7% cashback
Home Depot - 2% cashback
Groupon - 3.25% cashback
Lids - 6% cashback
Dyson - 2.5% cashback
Newegg - 1.5% cashback
If you're not familiar with cashback or still have questions, have a look at our cash back frequently asked questions document.