NCIX
NCIX: Microsoft Lifecam Show 2.0 Megapixel Webcam $12.99 + Free Express Shipping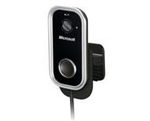 This deal has expired!
If you need a high-definition webcam but you're on a budget, NCIX has the Microsoft Lifecam Show 2.0MP Ultra Thin Webcam on sale for $12.99 with free express shipping. This is a pretty decent deal considering the LifeCam Show has many notable features including world-class HD optics with a glass element lens that produces sharp video quality and a noise-cancelling microphone that produces clear audio. Also, based on the fact that other retailers like Direct Canada, Computers Canada and Best Direct are currently selling this webcam (RLA-00002) for $47-$79, we'd say $12.99 is a great find - kudos to forum poster techchaser!
The reviews are decent too: out of 24 reviews, 92% recommend this product. The webcam also achieved an overall rating of 4.5 out of 5 at NCIX; read the reviews here. One gripe, however, is that the magnetic mounting system doesn't work for all computers and it causes the webcam to tilt or point downwards. Also, over in our forums, some have reported that the webcam's focus is fixed and not auto as specified in the product description. If the fixed focus is not a deal breaker for you, the Microsoft Lifecam Show is on sale until April 25. There's a limit of one webcam per customer.