NCIX
NCIX Last Blast of Summer Sale: OCZ 32GB USB Drive $10 AR, Belkin 8-Port Switch $7 and More!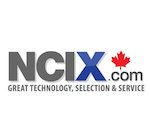 This deal has expired!
Another Wednesday means another huge sale on computers, electronics and accessories over at NCIX. This week's Last Blast of Summer Sale has over 140 surprise specials all of which are in short supply. If you're a student and living abroad, you might find after your first week in residence you need a few things to make life a little easier such as a new printer, monitor or maybe a new desktop altogether. Some of the more notable deals below include:
The deals are live now but end on September 12.