NCIX
NCIX High Performance Sale: Corsair 2x4GB RAM $44, Logitech Gaming KB $70, Microsoft Webcam $13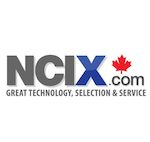 This deal has expired!
Another Wednesday comes and goes but not without another huge NCIX sale! This week's High Performance Sale, features over 150 limited quantity surprise specials so, if you're interested, you'll want to place an order or head to your nearest NCIX when you get a chance. There's lots more to see, but we've listed some of the more notable deals below:
The deals are live now but expire on August 8.