NCIX
NCIX Extreme Deal of the Day: Corsair Enthusiast Series TX550M 550W Modular Power Supply $59.99 AR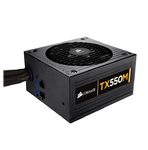 This deal has expired!
If you're building a new PC and still haven't found your power supply, you might want to look into NCIX's Extreme Deal of the Day. While quantities last, you can order the Corsair Enthusiast Series TX550M 550W ATX Modular Power Supply on sale for $59.99 after $5 mail-in-rebate. Modular power supplies are usually pretty expensive, so picking up a brand name one without spending too much of your allotted budget makes this worth considering.
Despite being only 550W, this should be enough for most builds -- provided your video card isn't super high end. One thing you should never skimp on while building a new rig is the power supply as it becomes a real pain to have to replace it later. Your best bet is to go with a reliable brand name with enough wattage for future expansion.
The deal is live now but only until the end of the day. Quantities are limited.