NCIX
NCIX Back to School Sale Part 2: Kingston HyperX 8GB RAM $39, Acer 24" LED Monitor $150 and More!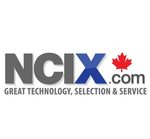 This deal has expired!
NCIX is at it again this week with another huge Back to School Sale. If you missed out on something last week, or maybe you just needed some time to think over your back to school list, now would be a good time to pick up parts to a new PC, a new laser printer or some dorm accessories like a power bar or a router. The sale features over 170 Weekly Specials some of which we've picked out below:
The sale ends on August 29.