NCIX
NCIX: Azio Levetron Wired Backlit Gaming Keyboard $31.99 AR (Reg. $69.99)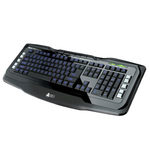 This deal has expired!
Affordable PC gaming peripherals are pretty hard to find so we're glad to see NCIX put the Azio Levetron Backlit Gaming Keyboard on sale for $31.99 after $8 mail-in-rebate. Despite the rebate, this is a good deal on a backlit keyboard that doesn't break the bank or scream gaming junkie. Notable features include:
Seamlessly toggle between standard and gaming mode
Programmable macro keys
Automatic profile switching
Media keys
Adjustable blue backlit keys
This particular keyboard normally costs around $60 which would make it hard to consider as name brands such as SteelSeries, Razer and Logitech are in the same neighbourhood. You won't, however, find a backlit gaming keyboard at this price which makes it worth looking into if you don't mind the rubberised membrane.
The deal is live now but expires on July 31. The mail-in-rebate must be submitted by August 6.