Mobilicity
Mobilicity: Save $2 Every Month on All Plans w/Automatic Payments (New Activations Only)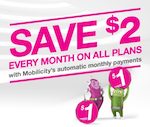 This deal has expired!
If you're looking to switch up your wireless provider, now might be a good time to consider Mobilicity as they're offering $2 off per month with pre-authorized payments for a limited time. Though a lot has been said about the coverage of the new wireless companies, if you're within their network range, chances are you won't notice much of a difference in service.
The deal is only available on new activations only but some forum members have been able to get it applied to existing plans so your mileage may vary on that. It never hurts to ask -- politely, that is!
No word on when the promotion ends so you'll want to act fast if you're interested. Thanks to sspikachu25 for sharing this one with us.