Mobilicity
Mobilicity: Huawei Phone + 6-Months of Unlimited Local Calling, North American Text & More $99.99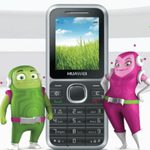 This deal has expired!
Mobilicity has an interesting new offer - thanks forum user popbottle for the heads up! For a limited time, you can receive a Huawei U2801 phone (a $49.99 value) plus 6 months of the following features for $99.99:
Unlimited Local Calling
Unlimited North American Text & Picture Messaging
Canada-Wide Unlimited Long Distance
Caller I.D
Call Waiting
Call Forwarding
3-Way Calling
These features would normally cost $150 for 6 months under Mobilicity's $25-monthly starter plan, so this offer represents a nice savings if you're thinking of going with a basic plan that includes unlimited features and a phone. Since Mobilicity doesn't service all of Canada yet, this promotion is available in Toronto, Ottawa, Edmonton, Calgary and Vancouver only. If you're interested, just in keep in mind the offer is valid on new activations only and you'll have to pay the $99.99 + taxes upfront. To learn more, locate a Mobilicity store near you.