Marvel Comics The Avengers Thor 8GB USB Flash Drive - $11.99 (40% off)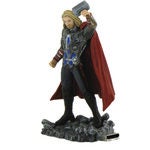 This deal has expired!
When it comes to transporting and protecting your data, you can't go wrong with The Avengers from Marvel. This 8GB USB flash drive features a collectible detailed replica statuette of the mighty Thor, god of thunder. The USB connector slides out from the base and is retractable for protection when it's not needed.