Henrys
Henry's: Save up to $30 on the Lowepro Flipside Sport 10LAW and 15LAW Digital SLR Outdoor Bags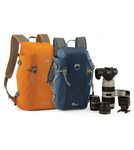 This deal has expired!
Camping and hiking are fun activities but it's understandable to be weary of bringing your expensive camera equipment along for the ride. For a limited time, though, Henry's has put select Lowepro Flipside Sport Bags on sale which should quell any fears of having your DSLR out in the elements. The bags were designed for rough and tumble outdoor activities and have some unique features which make it a worthy choice for outdoor enthusiasts.
While the prices might seem a little on the expensive side for camera equipment, the 10LAW and 15LAW are well designed bags that are practically made for the outdoors. You'll be able to comfortably carry a digital SLR with attached lens, 2-3 extra lenses, flash, tripod and accessories; nothing too out of the ordinary when it comes to photography bags. The real draw here, though, is in series' lightweight construction, convenient body-side camera access and 1 litre hydration reservoir. If you feel like leaving your camera equipment at home anyway, the camera compartment is completely removable which quickly transforms the bag into a standard hiking bag. A built-in all weather cover is included as well.
In short, it's an all-in-one bag that is designed to protect your camera gear outdoors. If you're still not convinced, or need some more information, you can check out the Lowepro videos here.
The prices have been adjusted online but will revert on August 15.