Henry's Outlet Centre
Henry's Outlet Centre: Open Box Sony T99 Digital Camera with 3-Year Warranty is $99.99 (On)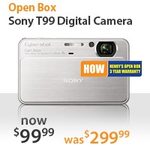 This deal has expired!
If you need a portable camera but the available selection is being limited by your tight budget, Henry's Outlet Centre (located in Mississauga, Ontario) has an open box Sony Cyber-shot Digital Camera that you might want to look into.
For a limited time, the Sony T99 with 25mm Wide-Angle Lens & 3" LCD touchscreen display is available for $99.99, regularly $299.99. At this low price point combined with Henry's 3-year Open Box warranty that covers repairs caused by manufacturer's defects, we'd say the risk for buying an open-box product that was used for store display or demonstration is low in this case. This Sony Cyber-shot is well-reviewed with an average score of 4/5 at Amazon.com.
If you're interested,
Henry's Outlet Centre
is located on 1855 Dundas Street East in Mississauga, Ontario. Before heading out, you'll probably want to call first to ensure this open box camera is available.