Henrys
Henry's: Canon LP-E8 Battery For T3i and T2i with Lowepro EX-180 Gadget Bag $69.99 (Reg. $99.99)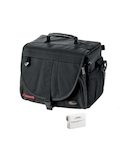 This deal has expired!
If you have a Canon T2i or T3i and find you're always running low on battery while shooting, Henry's has a good deal on a battery and bag combo you might want to take a look at. Right now, you can pick up the Canon LP-E8 Accessory Kit for $69.99. What's included you ask? Well, there's a genuine Canon LP-E8 Battery, valued at $69.99, and a Lowepro EX-180 Gadget Bag, probably worth around $30. If you were looking at picking up a spare battery, why not treat yourself to a free bag as well?
Similar bundles at Future Shop and Best Buy cost upwards of $150, so this would definitely be a good time to pick one up if you're in need.
The deal is available in-store and online but, be aware, shipping is extra.
Thanks to forum member bf_ns for pointing this deal out!