Google.com
Google: Nexus 7" Tablet with 8GB HD, 1280x800 HD IPS Display, Tegra 3, Android 4.1 $209, 16GB $209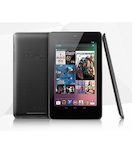 This deal has expired!
If you're looking to pick up a tablet but don't want to dip into the retirement fund, Google has a pretty good option ready for pre-order right now. Set to release in 2-3 weeks, is the Nexus 7 Tablet equipped with 1280x800 HD Display, Back-lit IPS Technology, Quad-Core Tegra 3 Processor, 1 GB RAM and Android 4.1. At $209, this is an awesome deal and it gets even better with a $25 credit for use in the Google Play Store.
Engadget has a hands-on review of what they've seen so far out of the Nexus 7 and mention it has a very good display, is pretty zippy and has an attractive price point. This isn't a full review but should whet your appetite for the tablet if you're looking for an upgrade or one for the first time. Google lists up to 9 hours of active-use battery life which should be plenty for most consumers.
We're not sure when/if that $25 credit promotion will end so it would be best to pre-order now so you don't miss out.