Google: Google Nexus 7 16GB Tablet $209, 32GB 259, 32GB with HSPA+ $309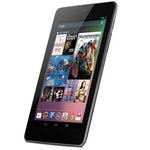 This deal has expired!
Those looking into purchasing the Google Nexus tablet might want to head on over to the Google Play store where they've discounted the current generation models to even better prices. Here's the breakdown:
Originally, the 16GB model sold for $259, so saving $50 on a still relatively new tablet isn't bad at all -- especially if you find other Android tablets or Apple products a little out of your price range.
We expect all retailers to drop the price as well but when is anyone's guess. Sooner rather than later would obviously be better but, if you can't wait, you can order it straight from Google while quantities last.