Future Shop
Future Shop: Xbox 360 4GB Console $199.99 w/$100 Gift Card or $99.99 Online + Free Shipping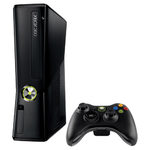 This deal has expired!
Here's a pretty sweet deal on the Xbox 360 4GB Console if you're interested in picking one up. Right now, you can purchase the popular Microsoft video game system for $199.99 with a $100 gift card in-store or for $99.99 outright online. Because Future Shop can't/won't mail you a gift card, the price gets deducted automatically at the checkout to $99.99 which means you get the savings up front and on taxes too!
This is one of the lowest, if not the lowest, prices we've seen for the console so now would be a good time to place an order if you've had any inclination of picking one up. We don't expect the Xbox 360 to dip any further during Black Friday or Christmas sales either so you can ultimately save yourself some time by buying early.
The deal is live now but only until October 11. Free shipping is available.