Future Shop
Future Shop: Trade Five Select Xbox 360, Wii or PlayStation 3 Games and Receive an 8GB iPod Touch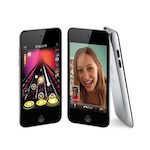 This deal has expired!
If you're in the market for a new iPod Touch and have some video games lying around, Future Shop has a solid trade in event you might be interested in. Until March 29, you'll be able to swap five select games for a brand new 8GB iPod Touch. While not as good as the mp3 trade in event, this one is still decent provided you didn't pay full price for any of the qualifying games and, preferably, have gotten your money's worth out of them.
The list primarily consists of newer titles for the Wii, Xbox 360 and PlayStation 3 but, as mentioned above, if you were able to grab them on sale you could either break even or perhaps come out ahead depending on your deal hunting prowess.
Some rules and restrictions do apply, however, as the games must include the manual and box. Also, in case you were wondering, no duplicate titles will be accepted regardless of what console they're for.
The deal ends on March 29.