Future Shop
Future Shop: Refurb Lenovo 15.6" Laptop w/Core i5, 640GB HD, 6GB RAM, Win 7, $469.99 (Online Only)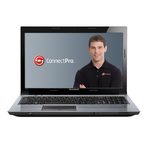 This deal has expired!
If you're in the market for an affordable but capable 15.6" laptop and don't mind buying refurbished, Future Shop has a decent deal on a notebook you might want to take a look at. Right now, they have a refurbished Lenovo 15.6" notebook with Intel Core i5, 640GB HD, 6GB RAM and Windows 7 for $469.99. Although not as hot as the previous price of $430, it's still a decent price for a pretty good performer.
With a second generation i5 processor, sizeable hard drive and good amount of memory, this laptop should be able to handle most basic tasks with ease. Throw in the capacity for photo and video editing as well and you have a laptop that performs well given the price. HDMI out, 4 USB 2.0 ports and a fingerprint reader are also nice to have. Its average battery life (up to 4 hours) and build (5.3 lbs) aren't deterring factors but it might be for those fixated on something a little more portable.
The deal is available online only but Future Shop does offer free shipping over $25.