Future Shop
Future Shop: Refurb Lenovo 15.6" Laptop w/Pentium B950 $299.99, w/i3-2330 $329.99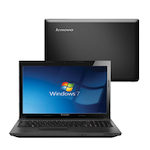 This deal has expired!
If you've got a tight budget but need a laptop, FutureShop.ca has some tough to beat deals on refurbished Lenovo notebooks right now. There's a 15.6" laptop at the $299.99 price point and two at the $329.99 price point. Take a look:
Lenovo 15.6" Laptop (B570-1068XF9) w/Pentium B590 2.1GHz, 4GB RAM, 500GB HD, DVDRW, Win 7, HDMI out & Fingerprint Reader - $299.99
Lenovo 15.6" Laptop (B570-1068XF6) w/Core i3-2330M, 4GB RAM, 320GB HD, DVDRW, Win 7, HDMI Out & FIngerprint Reader - $329.99
The $329.99 options appear identical to us save for the model number (1068XF6 vs 1068XF5). If you're especially price conscious, the $299.99 laptop with a Pentium B590 processor shouldn't let you down. The B590 is based on Sandy Bridge architecture, and it has more than enough horse power for basic productivity tasks and things like watching videos (HD videos included). The notebooks at $329.99 pack a more robust processor, but smaller hard drives.
If all you need is a basic laptop, we'd say you can't really go wrong considering the prices involved. At the time of writing, these all list as available online and in-store. Stock may vary by location.
Shipping is free.